Women's Ministry at First Presbyterian works alongside the other ministries of our church to live out the church's vision. Women's Ministry at First aims to be a loving community committed to first growing deeper in Christ and then taking God's truth to the rest of our church, our community and the world. We do this in several ways.
1. Bible Studies
Each of us has times in life where we feel unwanted, misunderstood and possibly like an outcast. The message of Luke's gospel speaks directly into each of those hurts. Luke highlights for us Jesus' love and care for everyone, but especially those who were disenfranchised and rejected. Luke presents Jesus to us proudly - here is the Savior, who lived among his people, all people, the sinners, the broken and the rejected.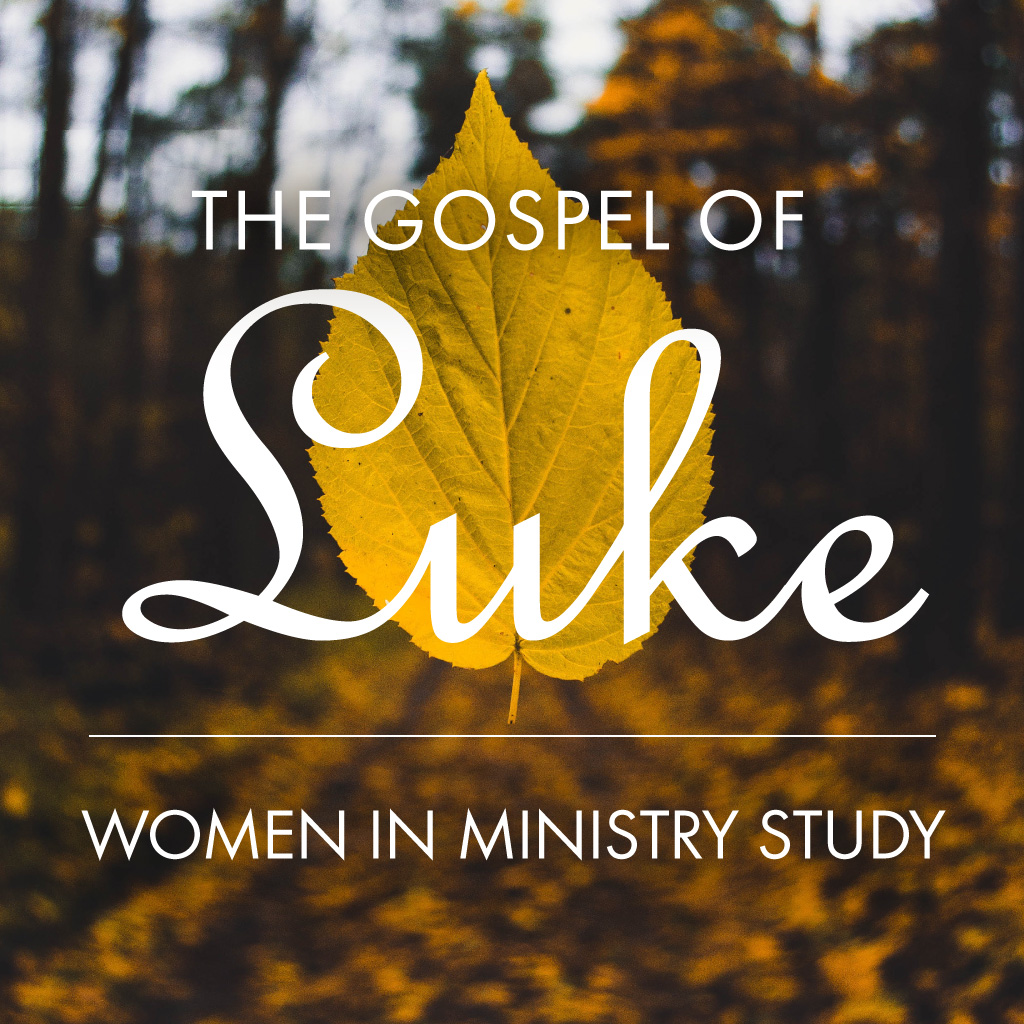 Join us for the Gospel of Luke. We will study the life of Jesus from Luke's perspective both in the Fall 2018 and the Spring 2019. Elizabeth Parker, Director of Women's Ministry, will teach the Luke study and would love to have you come! There is no homework; just bring your Bible and yourself!
Contact Elizabeth
with any questions, 803.448.4911.
The Luke study will begin Wednesday, August 8 and Thursday, August 9. They will meet weekly until the week before Thanksgiving. The Mother's Study led by Jaime Carnaggio begins September 6.
The study will take place at three different times and locations:
Wednesday Afternoons
1.30 pm at the home of Sally Graves
Wednesday Evenings
6.30 pm
Meets in the FPC Bride's Room
Thursday Mornings
9.30 am Education Building Room 202
9.30 am Education Building Room 301 - Mom's Bible Study
Those who attend this group look forward to focusing on Scripture and refueling in fellowship. The women who attend are mothers in their 20s, 30s and 40s. We begin our study on Thursday, September 6, and will study through Jesus' parables in Luke's Gospel. Contact
Jaime
if you have any questions.
Another Option
Early morning person? On Wednesday mornings at 6.30 am Lisa Head will teach through Ecclesiastes. Contact
Lisa
with any questions.
2. Circles
Circles meet monthly to study a book and enjoy rich fellowship. The book is chosen by Elizabeth Parker, Director of Women's Ministry, and teachers prepare and facilitate discussion of the book at each meeting. Circles begin meeting in September and wrap up in May. These groups are offered at a wide variety of times and places.
CIRCLE 1
1st Tuesday @ 9.45 am
Member Homes
CIRCLES 2 & 3
1st Tuesday @ 9.45 am
(Sept. meeting is the 2nd Tuesday)
Home of Sally Graves
CIRCLE 4
2nd Thursday @ 6.30 pm
Home of Mary Blumentritt
CIRCLE 6
2nd Tuesday @ 10 am
Member Homes
CIRCLE 7
1st Friday @ 1 pm
Home of Sara Blankenstein
CIRCLE 9
2nd Tuesday @ 6.30 pm
Albasha (Citiplace)
CIRCLE 10
3rd Wednesday @ 5 pm
Bistro Byronz on Government
CIRCLE 11
1st Thursday @ Noon
Church Library
CIRCLE 12
2nd Tuesday @ 6.30 pm
Member Homes
3. Fellowship and Service
Several times a year we have luncheons designed to get the women together for fellowship. Sometimes there is teaching or a special program. Oftentimes there is a service component to the event where the director of a local ministry will speak about how they serve our community. There is an opportunity to sign up to be a volunteer, and perhaps donate money or resources as well.
It is our goal to have a retreat once a year, whether big or small, where the women can get "off campus" for a day or two.
We love for our Bible studies, Circles and events to be intergenerational. We learn so much from the wisdom each stage of life brings.
Women's Ministry takes a team approach. It is facilitated by the Director of Women's Ministry, Elizabeth Parker, and the Administrative Assistant to the Executive and Women's Ministry, Sherry McKinley.
If you have any questions or if we can help with anything please do not hesitate to contact Elizabeth, elizabeth@fpcbr.org or 803.448.4911 and/or Sherry, sherry@fpcbr.org.
Book Suggestions for Devotional Life
The All-Sufficient God
by Martyn Lloyd-Jones
Jesus Calling: Enjoying Peace in His Presence—Devotions for Every Day of the Year
by Sarah Young
Jesus Storybook Bible: Every Story Whispers His Name
by Sally Lloyd-Jones
Morning and Evening
by Charles Haddon Spurgeon
The Prodigal God: Recovering the Heart of the Christian Faith
by Tim Keller
The Return of the Prodigal Son
by Henri Nouwen
The Screwtape Letters
by C.S. Lewis
Valley of Vision: A Collection of Puritan Prayers and Devotions
by Arthur G. Bennett (Editor)
Book Suggestions on Marriage and Family, Finance, and Sexuality
Desperate Marriages: Moving Toward Hope and Healing in Your Relationship
Hope for the Separated: Wounded Marriages Can Be Healed
by Gary Chapman
His Needs, Her Needs
by Willard F. Harley, Jr.
How to Manage Your Money: An In-Depth Bible Study On Personal Finances
by Larry Burkett
Our Greatest Gift: A Meditation on Dying and Caring
by Henri J.M. Nouwen
On the Threshold of Hope: Opening the Door to Healing for Survivors of Sexual Abuse
by Diane Mandt Langberg
Sacred Marriage: What if God Designed Marriage to Make Us Holy More Than to Make Us Happy?
by Gary Thomas
Sex and the Supremacy of Christ
by John Piper and Justin Taylor
The Silence of Adam: Becoming Men of Courage in a World of Chaos
by Larry Crabb
The Wounded Heart: Hope for Adult Victims of Childhood Sexual Abuse
by Dan B. Allender
Book Suggestions for Further Study
According to the Plan: The Unfolding Revelation of God in the Bible
by Graeme Goldsworthy
Breaking the Idols of Your Heart: How to Navigate the Temptations of Life
by Dan B. Allender and Tremper Longman III
The Cross
Studies in the Sermon on the Mount
by D.M. Lloyd Jones
Counterfeit Gods: The Empty Promises of Money, Sex, and Power, and the Only Hope that Matters
The Reason for God: Belief in an Age of Skepticism
by Tim Keller
The End of the Beginning: Revelation 21-22 and the Old Testament
by William J. Dumbrell
The Four Loves
Mere Christianity
by C.S. Lewis
From Eden to the New Jerusalem: An Introduction to Biblical Theology
by T. Desmond Alexander
The God Who is There: Finding Your Place in God's Story
by DA Carson
Gospel Women: Studies of the Named Women in the Gospels
Jesus and the Eyewitnesses: The Gospels as Eyewitness Testimony
Richard Bauckham
Growing Your Faith: How to Mature in Christ
by Jerry Bridges
Keeping the Sabbath Wholly
by Marva Dawn
The Shadow of Christ in the Law of Moses
by Vern S. Poythress
Simply Christian: Why Christianity Makes Sense
by N.T. Wright
Spiritual Theology: A Systematic Study of the Christian Life
by Simon Chan
Surprised by Grace: God's Relentless Pursuit of Rebels
by Tullian Tchividjian
The Unfolding Mystery: Discovering Christ in the Old Testament
by Edmund P. Clowney
When the Darkness Will Not Lift: Doing What we Can While We Wait for God
by John Piper