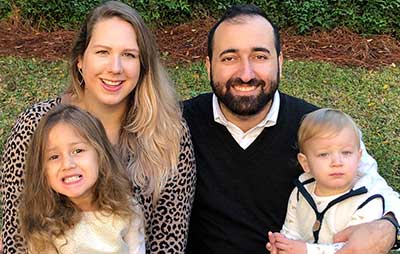 Nour and Rebecca (members at First Presbyterian) are serving in the Middle East with World Outreach, the sending branch of the national Evangelical Presbyterian Church. Together with their children Julia and Joseph, they are primarily involved in ministry to Syrian refugees living in the poor urban communities of Beirut. In addition to discipleship efforts and home visits, they assist in Arabic literacy projects, food and clothing distribution and medical outreach.
Nour, a Syrian-American whose first language is Arabic, also leads worship at a local Lebanese church and is involved in Arabic Christian TV programming that's broadcast across the Middle East.
Rebecca is the primary caregiver for Julia and Joseph, homemaker, in the midst of Arabic language studies and continuing a Master of Religion from Gordon Conwell Theological Seminary in Islamic studies.
Nour and Rebecca are thankful to have a wonderful and supportive home church that shares a burden and passion to be further into the world. Their prayer cards are available at the Connection Center and you can send an email if you'd like to be added to their newsletter.