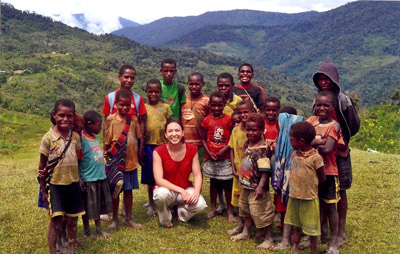 Brian and Heather Marx are missionaries with Mission Aviation Fellowship assigned to serve in Papua, Indonesia, as a pilot/mechanic family. A quote hanging on their wall says, "He is no fool who gives what he cannot keep to gain what he cannot lose." ~Jim Elliot (a paraphrase from Mark 8:35).
As the Nabire Base Manager, Brian oversees a team of 13 Indonesian employees plus one expatriate family. He also flies the Cessna Grand Caravan, one of two aircraft stationed in Nabire. These aircraft are constantly on the move to reach the remote people in the Nabire service area. Key ministries include evangelist training in the Northern Lowlands, church growth among the mountain tribes of the Puncak, and a brand new effort to reach the Weserau tribe, a recently discovered people group in the "bird's neck" of Papua.
Heather is an amazing ministry partner. Not only has she transformed their simple duplex into a day's-end retreat, but she also hosts a regular stream of out-of-town pilots and missionaries who need a get-away. Heather has introduced a character training program as an investment in the lives of the local employees. In her spare time she continues her chalk art ministry, using her artistic ability to build up local churches in Nabire. You may follow them on their blog, www.brianandheather.wordpress.com or visit them at www.maf.org/bmarx.