FPC Women's Ministry Vision
The mission of First Presbyterian Church Women's Ministry is to nurture women as they grow deeper in Christ and further into the world through studying God's Word, partnering in prayer, cultivating meaningful relationships and gathering in intentional life-on-life fellowship. Our prayer is that every woman feels poured into, supported and has a place and a purpose in our church body as we encourage each other as ambassadors of the gospel.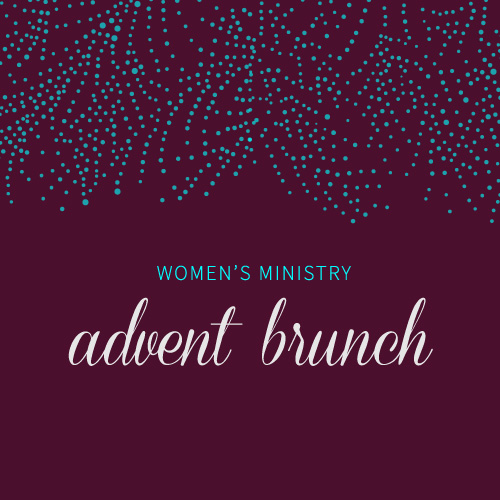 With the news of Jesus' birth, the shepherds rejoiced. All who heard about it were amazed. "But Mary treasured up all these things, pondering them in her heart" (Luke 2:19).
Mary internalized this moment. She wanted to savor it and preserve it in her heart.
Christmastime can be so easily externalized. Sometimes it feels like we are just going through the motions. We put up the twinkling lights. We decorate the tree. We buy the presents. We make the cookies. We wear the ugly sweater. We go to church. We sing. We eat. We open the gifts. And then we take down the twinkling lights. Aren't we missing something? Don't we long to be like Mary and treasure Jesus' birth internally, in our hearts?
Please join us for the Women's Ministry Advent Brunch where we will enjoy food, fellowship and a special devotion led by Lauren Fowler, based on Luke 2:15-20.
May we meditate on the beauty and wonder of Jesus' birth. May we treasure it in our hearts.
Catered by La Madeleine
$10 per person
Parking Tip: There is plenty of parking all along Oak Alley and around the cul-de-sac at the end of the street.
1 & 2 Thessalonians Study
The Apostle Paul had such affection for the church in Thessalonica, and he writes to them on two occasions; to celebrate their genuine love for the Lord and commitment to each other in the face of persecution, and to praise them for building strong leadership within the church. But more importantly, he writes to encourage them to remain steadfast in their faith and to continue pursuing godly living. He is concerned they may become complacent or grow weary in studying and spreading the gospel, so he reminds them to live each day in light of the promised return of Jesus Christ.
Join Women's Ministry as we study two of Paul's most God-centered letters, 1 & 2 Thessalonians. These letters teach us how to remain grounded in the gospel in the midst of a fallen world. They emphasize the importance of walking consistently in the power of the Holy Spirit. And they encourage us to not grow weary in our relationship with the Lord or each other, but to live in the hope of eternity.
Bible studies kick off the week of January 15.
Mondays: 7.30 am, FPC Library (designed for ladies in their 20s/30s)
Wednesdays: 6.30 pm, Virtual (
ZOOM link
). If prompted, the password is 1234.
Thursdays: 9.30 am, FPC Room 202 (childcare available by request only)
Circles
By Jaime Carnaggio, Director of Women's Ministry
"How's your prayer life going?"
When someone asks me that, I feel convicted. Insecure. Guilty. I understand the importance of prayer, but the act of prayer can feel challenging. The answers that run through my mind go something like . . .
"I should pray more often. I wish I desired to pray more. I should enter prayer with more trust. I feel intimidated to pray because I don't think I'm saying the right things. I even doubt that God hears me . . . or cares."
In Praying the Lord's Prayer, J.I. Packer presents an encouraging truth. Prayer is the most natural activity in which we ever engage. We were created to pray. And our Lord Jesus has given us a powerful model for prayer, helping us better understand the privilege it is to pray, the power it has and the purpose behind it.
Join one of Women's Ministry's Circles this year as we carefully consider the truth of each phrase of the Lord's Prayer, applying it to our own lives in such a way that we experience more intimate conversation with him.
"Let us, then, with confidence draw near to the throne of grace, that we may receive mercy and find grace to help in time of need" (Hebrews 4:16).
Daughters of the King
Look at the nations and watch and be utterly amazed. For I am going to do something in your days that you would not believe, even if you were told (Habakkuk 1: 5).
Daughters of the King Ministry exists to build meaningful community for single/divorced
women through study, fellowship, and prayer. We desire to provide a supportive and vibrant space to pursue our God-ordained identity for hope and abundance in the Lord. No matter what your marital or relational status, you can confidently claim your title as a Daughter of the King.
Events
Women's Ministry holds four events annually (one each season!) that are geared toward intergenerational fellowship, food and devotion. We also organize monthly "decade" socials that are meant to serve as fun-filled opportunities to gather outside of the church walls with women in your age range.
If you are interested in hosting one of our socials or helping with any Women's Ministry events, please email
Emily Viguerie
.
Women's Ministry Advisory Council
The purpose of the Women's Ministry Advisory Council is to come alongside the Director of Women's Ministry, helping to serve our collective and individual needs. The council members partner with the director in the areas of fellowship, discipleship, prayer and Bible study.
The 2023-2024 Council Partners are: Bonnie Adams, Mitzi Barber (Deacon), Sharon Dixon, Lauren Fowler, Kristina Graham, Martha Juban (Elder), Katie Schellack, Suzie Thompson (Elder) and Ashley Wood.
Women's Ministry Elders
Martha Juban
Suzie Thompson
Book Suggestions for Devotional Life
The All-Sufficient God
by Martyn Lloyd-Jones
Jesus Calling: Enjoying Peace in His Presence—Devotions for Every Day of the Year
by Sarah Young
Jesus Storybook Bible: Every Story Whispers His Name
by Sally Lloyd-Jones
Morning and Evening
by Charles Haddon Spurgeon
The Prodigal God: Recovering the Heart of the Christian Faith
by Tim Keller
The Return of the Prodigal Son
by Henri Nouwen
The Screwtape Letters
by C.S. Lewis
Valley of Vision: A Collection of Puritan Prayers and Devotions
by Arthur G. Bennett (Editor)
Book Suggestions on Marriage and Family, Finance and Sexuality
Desperate Marriages: Moving Toward Hope and Healing in Your Relationship
Hope for the Separated: Wounded Marriages Can Be Healed
by Gary Chapman
His Needs, Her Needs
by Willard F. Harley, Jr.
How to Manage Your Money: An In-Depth Bible Study On Personal Finances
by Larry Burkett
Our Greatest Gift: A Meditation on Dying and Caring
by Henri J.M. Nouwen
On the Threshold of Hope: Opening the Door to Healing for Survivors of Sexual Abuse
by Diane Mandt Langberg
Sacred Marriage: What if God Designed Marriage to Make Us Holy More Than to Make Us Happy?
by Gary Thomas
Sex and the Supremacy of Christ
by John Piper and Justin Taylor
The Silence of Adam: Becoming Men of Courage in a World of Chaos
by Larry Crabb
The Wounded Heart: Hope for Adult Victims of Childhood Sexual Abuse
by Dan B. Allender
Book Suggestions for Further Study
According to the Plan: The Unfolding Revelation of God in the Bible
by Graeme Goldsworthy
Breaking the Idols of Your Heart: How to Navigate the Temptations of Life
by Dan B. Allender and Tremper Longman III
The Cross
Studies in the Sermon on the Mount
by D.M. Lloyd Jones
Counterfeit Gods: The Empty Promises of Money, Sex, and Power, and the Only Hope that Matters
The Reason for God: Belief in an Age of Skepticism
by Tim Keller
The End of the Beginning: Revelation 21-22 and the Old Testament
by William J. Dumbrell
The Four Loves
Mere Christianity
by C.S. Lewis
From Eden to the New Jerusalem: An Introduction to Biblical Theology
by T. Desmond Alexander
The God Who is There: Finding Your Place in God's Story
by DA Carson
Gospel Women: Studies of the Named Women in the Gospels
Jesus and the Eyewitnesses: The Gospels as Eyewitness Testimony
Richard Bauckham
Growing Your Faith: How to Mature in Christ
by Jerry Bridges
Keeping the Sabbath Wholly
by Marva Dawn
The Shadow of Christ in the Law of Moses
by Vern S. Poythress
Simply Christian: Why Christianity Makes Sense
by N.T. Wright
Spiritual Theology: A Systematic Study of the Christian Life
by Simon Chan
Surprised by Grace: God's Relentless Pursuit of Rebels
by Tullian Tchividjian
The Unfolding Mystery: Discovering Christ in the Old Testament
by Edmund P. Clowney
When the Darkness Will Not Lift: Doing What we Can While We Wait for God
by John Piper