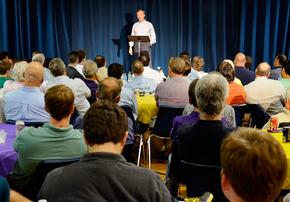 The men of First Presbyterian enjoy a variety of ministry and service together. We meet in various groups throughout the year, eat together, fellowship in one anothers' homes, travel, study God's Word and serve our neighbors. It is our desire to equip men to live as followers of Christ in the home, workplace and community.
We seek to have every man actively engaged in the transformation of the inmost dimension of their being, the heart, in such a way that its natural expression comes to be the deeds of Christ done in the power of Christ so that they may fulfill their calling in the church, the home and the world.
We believe that this transformative process most effectively takes place in the context of the church through daily devotion, weekly discipleship and weekly corporate worship.
We have some exciting events coming up for men's ministry in 2020!
Skeet Shooting
We are planning a skeet shooting adventure in January/February of 2020
Men's Retreat
We have a men's retreat booked with the Solomon Center for March 27-28, 2020.
Mark your calendars, you won't want to miss any of these events!
For more information on men's ministry, contact Darin Travis.