DISCOVERING WHAT'S "IN CHRIST"



Colossians 1: 2
To the saints and faithful brothers in Christ at Colossae . . .
Philippians 1: 1b
To all the saints in Christ Jesus who are at Philippi . . .
1 Thessalonians 1: 1
To the church of the Thessalonians in God the Father and the Lord Jesus Christ: Grace to you and peace.
Ephesians 1: 1
To the saints who are in Ephesus, and are faithful in Christ Jesus.
2 Thessalonians 1: 1
To the church of the Thessalonians in God our Father and the Lord Jesus Christ . . .
Consider
The "churches" to which Paul wrote were groups of believers in particular cities. They usually met in homes and had no building dedicated to Christian worship. Paul thought of these believers as dwelling in two places at once: in Christ and in the town. They were co-located. A gathering of those worshiping Jesus as Lord might be held in a city you could find on a map. But at the very same time, this church also dwelt in Christ. For instance, though geographically in Ephesus, those believers were declared by Paul to be already seated with Christ in the heavenly places (Eph. 2: 6). Physically somewhere in the visible world, they were also spiritually united to Christ Jesus and with him in the Father's presence.
There is a mystical quality to the church. He is the head and we are the members of his body, as organically joined to Jesus as a hand or stomach is part of human anatomy. What's more, we are joined with all other believers, across the space of the world and the ages of time. This reality is what the Apostles' Creed means by "the communion of saints."
In the Garden, the LORD asked our first parents after they had eaten the forbidden fruit, "Where are you?" (Gen. 3:9). They were hiding in the bushes, ashamed of their nakedness and alienated from their Creator. Now we have a different answer about the status of our lives. Where are you? The answer is "in Christ." Or, to answer the Genesis story, we are still hiding but now "your life is hidden with Christ in God" (Col. 3: 3). And Christ brings us with him to draw near to the Father unashamed and unafraid—as long as we go joined to him.
The deepest reality of our lives is our union with Christ. So it follows that the deepest bond we can have with other humans is to share the Spirit of Christ who binds us together as one.

TREASURES FROM THE STOREHOUSE OF CHRISTIAN WISDOM
"Ye are risen with Him through the faith of the operation of God, who hath raised Him from the dead" (Col. 2: 12). His life is yours, Paul means. You do not need to wait "until the day break and the shadows flee away" before beginning to live eternally. In union with Christ, that glorious privilege is yours here and now. Risen with Him, you have passed out of relationship to sin, out of the hampering limitations of this present order, out of the domain of the world and the flesh, into the realm of the Spirit, and into life that is life indeed. In short, even here on the earth, "you are a colony of heaven" (Phil. 3: 20). Never forget where your citizenship lies! "Reckon yourselves alive unto God through Jesus Christ our Lord" (Rom. 6: 11).
To be "in Christ" means that Christ is the redeemed man's new environment. The human body, by the acts of eating and drinking and breathing, is continually drawing for its strength upon the resources of its physical environment. So the Christian spirit, by prayer and worship and surrender, makes contact and keeps contact with its spiritual environment, which is Christ: thus the soul draws for its strength upon the supplies of power which in Christ are quite inexhaustible. "I can do all things," it says, "Through Christ which strengtheneth me" (Phil. 4: 13). Faced with the strain and stress of the moral struggle, surrounded by stubborn hereditary foes, torn sometimes on the rack of almost unbearable temptation, it lifts its head and cries, "Thanks be unto God which always causeth us to triumph in Christ" (2 Cor. 2: 13). (Stewart, A Man in Christ, pp. 105, 107)
Consider
Dr. Stewart reminds us of our true home when he writes that "even here on earth, 'you are a colony of heaven.'" We live and work and serve in this world, all the while tethered to our homeland, and representing the interests of our King. Stewart tells us that even in this daily life we can keep contact with our "spiritual environment, which is Christ." We live in him even more truly than we live on this earth. Just as we draw physical nourishment from the physical world, so we can draw strength from Christ, who is now our true natural habitat. The church gathers weekly to reset our focus on our real address.
PRESSING INTO CHRIST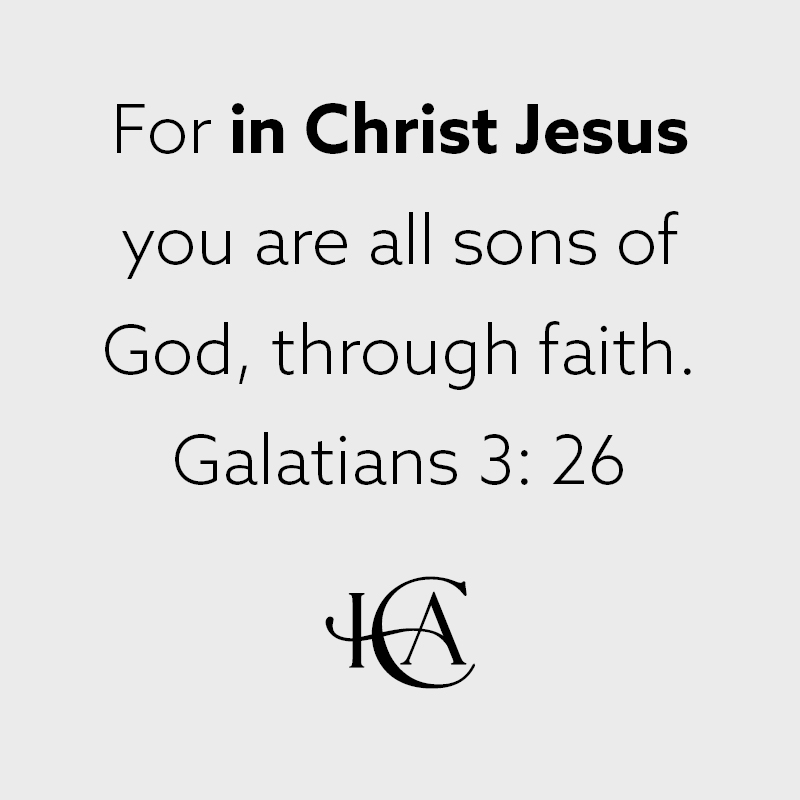 Triune God, we live and move and have our being in you.
More than sky to a bird or the sea to a fish,
Great Father, you are the environment of eternal life.
Even more than we must have air to breathe,
Windy Spirit, we must breathe you in.
Even more than we must have food to eat,
Lord Jesus, we must partake of you the Bread of Life . . .
It mystifies us that right now
You have made us spiritual amphibians:
Both of earth and of heaven.
Yet we know we are here to bring your Word
And your love to those who do not yet
Breathe the air of heaven, eat the Word of God
Or revel before your shining face.
So give us strength for this day here
As we yearn for you there.