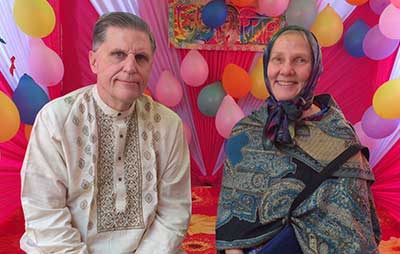 Serving in Mission is an inter-denominational mission agency, first founded as the Sudan Interior Mission in 1893. SIM is now made up of over 1,600 missionaries serving in over 50 countries on 5 continents. The purpose of SIM is to "glorify God by planting, strengthening and partnering with churches around the world." Click here to know more: www.sim.usa.com
Don and Cheryl Schroeder have been serving in South Asia with SIM since August of 2000. They minister with the SIM team working long-term in a large Muslim majority country in South Asia to plant churches among this generally unreached majority Muslim people. Cheryl lives full-time in the USA caring for Don's elderly parents. Don travels to this Muslim majority country approximately three times each year taking on the long-term role of recruiting new workers.
Over their years, Don and Cheryl have established strategic partnerships with Way of Life, Way of Peace, and Regenerative Trust. Their efforts focus on encouragement and support for the senior national staff of these organizations.
Recently SIM launched a new outreach program called Indigenous Outreach Workers, IOW. IOW provides long-term ministry partnerships with gifted individual Muslim background Christians to take the Gospel to unreached areas. This work began in January of 2010 and currently has approximately 90 baptized believers and 4 local fellowships being formed. Praise God for all that He is doing.
Please be in prayer for these men and their families. Pray that like Paul they might open the eyes of the people of these areas so "that they may turn from darkness to light and from the dominion of Satan to God, that they may receive forgiveness of sins." (Acts 28: 18)