Reformation Sunday's Kirkin' O' the Tartans - October 27
Posted: 09/26/2019
Wear your plaids, your kilts and your tweeds as we celebrate the Scottish roots of our Presbyterian faith on Reformation Sunday, October 27. Worship begins at 10 am on the Sanctuary steps enjoying the bagpipers. After the bagpipers, we'll follow the procession of the Bible, the tartans, the pastors and choir as we enter God's house. During the service, we will hear of the daring, sacrificial faith of the first Presbyterians. We will call the clans and invite those of Scottish descent to lead each and every one of us in affirming our faith in Christ our Lord. We'll all thrill as the organ and the bagpipes are unleashed for the stirring "Highland Cathedral." Bring your friends and don't miss it!
Our congregational meeting will be a part of our service as we elect new elders and deacons as well as vote on proposed changes to the church Articles of Incorporation.
2022 Nominated Class of Elders and Deacons The congregation has nominated the following members for the 2022 class of officers: Elders: Jane Cooper, Ryan Dickerson, Brett Furr, Sue Miley, Hank Mills, Hans Othmer, Bill Peters, Tom Sawyer, James Slaton and Hardy Swyers. Deacons: Laurie Adams, Trey Birch, Gene Booth, Ray Gaspard, Charles Goebel, Mark Lamond, Sara Lemon, Shawn Mills, Jonathan Schellack and Garland Wilson.
Clan Tartans for the Kirkin' We want your clan's tartan to be represented at the annual Kirkin' O' the Tartans. Call Jaci to see about including yours, 620.0221.
Congregational Lunch After worship stay for a congregational lunch of grits and grillades in the gym for $5 ($20 per family). Special music will be provided by James Linden and Jim Hogg.There will be kids games outside in the terraced garden: gaga ball, tug of war, balloon twister and crafts tents.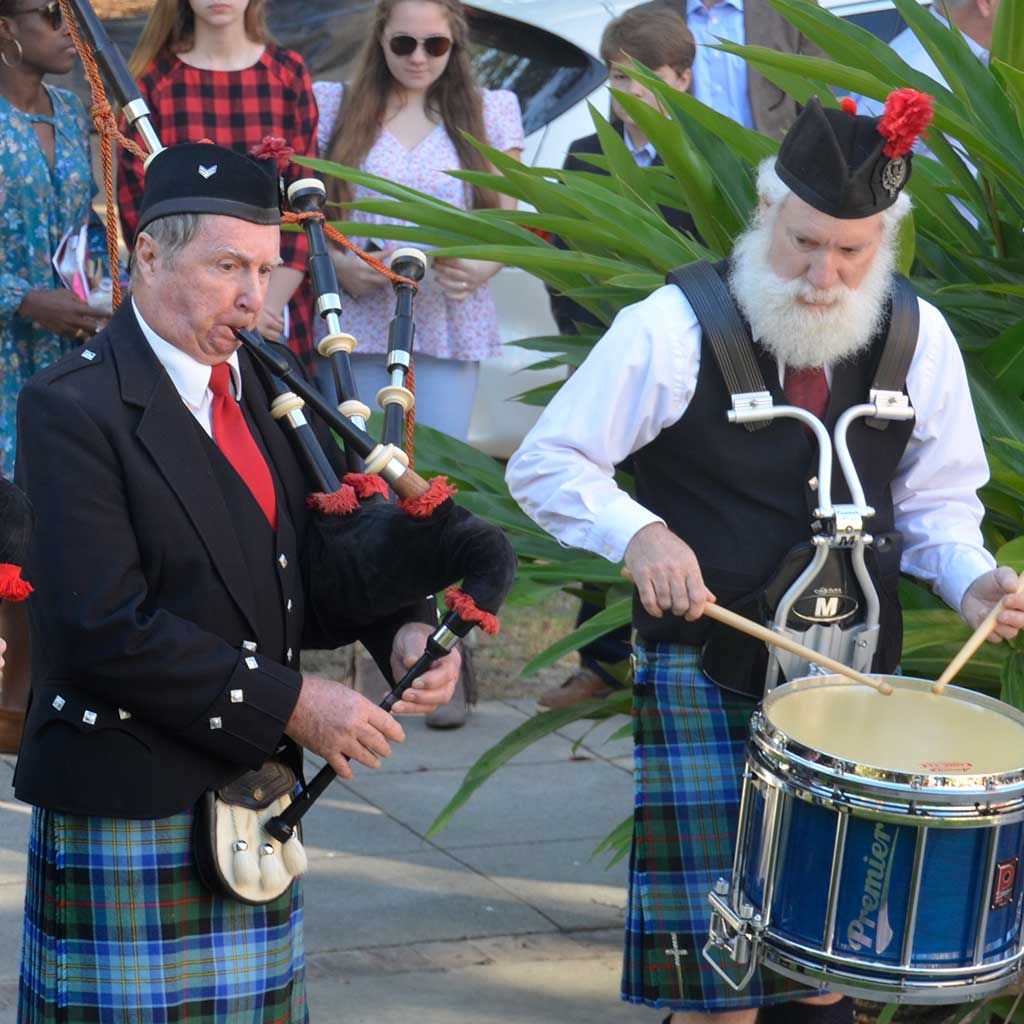 Back to News